The Statewide Director will support Grassroots Collaborative's Peoria organizing work by supervising organizing staff, helping to develop campaign strategy, and creating pathways to integrate the local work in Central Illinois to campaigns across the state. They will anchor GC's statewide campaign work, identifying opportunities for the organization to forward progressive policy work in Springfield, and cultivating potential expansion in a new location. They will also have responsibilities for Grassroots Illinois Action, our affiliated 501c4 organization.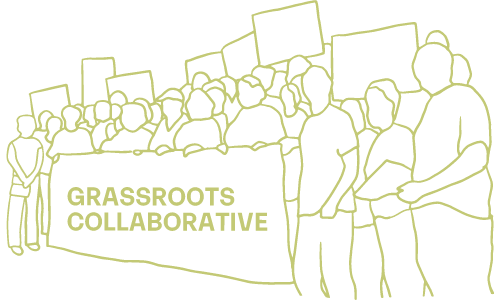 You should apply if you are an organizer that…
• You are excited to strengthen relationships between worker and community organizations and innovate new methods for collective bargaining and community organizing.
• You believe in a vision of leadership by BIPOC women and femmes, workers, and communities to guide a just recovery from the pandemic and a just transition to a regenerative economy.
• You are committed to building power with Black and brown communities and working families across the state of Illinois.
Responsibilities:
• Organizer Training and Development – Create a leadership development program to support organizing staff and apprentices in Peoria
• Political Education & Leadership Development– Mentor organizers to design and conduct workshops and presentations that educate our membership and coalition partners about education justice and the origins of our fiscal, racial and climate crises, and prepare members to lead our campaigns.
• Coalition Building and Facilitation – Support organizers to maintain communication with coalition partners and engage them in strategic campaigns including digital, legislative and street actions
• Basebuilding – Ensure that the organizing work is grounded in data-driven base-building strategies that center Black, brown, and working class parents.
• Strategy Development – Collaborate with other GC Senior staff to develop long-term campaign strategy grounded in local needs that connect to organization-wide objectives
• Legislative – Lead GC and GIA's involvement in statewide economic and education justice policy efforts, and ensure that this work is rooted in our coalition membership in Chicago and Peoria.
Requirements:
• Deep experience organizing labor and community with a track record of leading campaign work and expanding responsibilities
• An energetic commitment to dismantling white supremacy and racial capitalism through fighting for environmental, racial, and economic justice within an anti-oppression framework
• Experience in designing curriculum and leading workshops following popular education principles.
• Commitment to and experience in advancing the growth of grassroots leaders
• Experience in and broad knowledge of campaigns and policy around racial justice, immigration, education, LGBTQ justice, economic justice, environmental justice
• Demonstrated experience in setting strategy, managing goals, and developing and implementing plans for teams of organizers and campaign staff
• Excellent written and verbal communication skills
• Strong interpersonal skills for developing relationships that foster collaboration and mutual accountability among diverse individuals
• Super organized and able to meet deadlines with ease
Nice to Have:
Spanish fluency
Proficient in Zoom, Excel, PowerPoint, Word, Google Suite, Slack, Asana, VAN
Work Environment:
Position can be based in Chicago or Central Illinois, with some travel between both locations
COVID-19: Grassroots Collaborative has made shifts to address the continuing difficulty of the pandemic on our emotional and physical health.
Chicago area staff are working remotely until it is safe to return to the office. Central Illinois based staff work remotely on a more permanent basis.
For the duration of the pandemic, we have a 4 day work week, with Full Time Employment defined as 32+ hours, with Fridays off. (There will be exceptions, where more working hours are required, including on Fridays or over the weekend.)
Compensation:
The salary for this position ranges from $65,000-80,000 depending on location, as well as professional and lived experience.
Benefits include:
Medical, vision, and dental insurance
Professional development and work tools
14 days of paid vacation
15 holidays
11 sick days
Most Fridays off
About us:
Grassroots Collaborative (501c3) is a woman of color led, BIPOC-centered coalition that builds power with working families through strategic community-labor organizing, grassroots leadership development, civic engagement, and research in Chicago and Peoria, IL. We aim to create bold change through building united fronts to win progressive policies and transformative systems-change centered on low-to-moderate income residents and communities of color. We utilize popular education to build consciousness, and build a coalition that unites residents to create transformative change for a more just society. Our affiliated 501c4, Grassroots Illinois Action, works to build community political power through issue advocacy and electoral strategies. We have a strong record of leading cutting edge campaigns that shift the narrative of white supremacy, austerity and corporate power. Currently our campaigns focus on taxing the rich, defunding the police, and winning a Green New Deal.
Grassroots Collaborative is an equal-opportunity employer. Black, Indigenous, Latinx and People of Color, LGBTQ, trans and gender expansive people are strongly encouraged to apply.
TO APPLY:
Please send resume and cover letter prompt (see below) hiring@thegrassrootscollaborative.org with "STATEWIDE DIRECTOR" in the subject line by April 18, 2022.
Cover letter prompts (please choose one of the following and respond in one page or less):
1) Please describe your experience supporting and developing grassroots leaders and new organizers, with examples of your approach to supervision, skill development and political education.
OR 2) What strategies and campaigns do you think are necessary to build more progressive base-building and legislative power with Black and brown and working class communities in modest-size cities outside of Chicago?