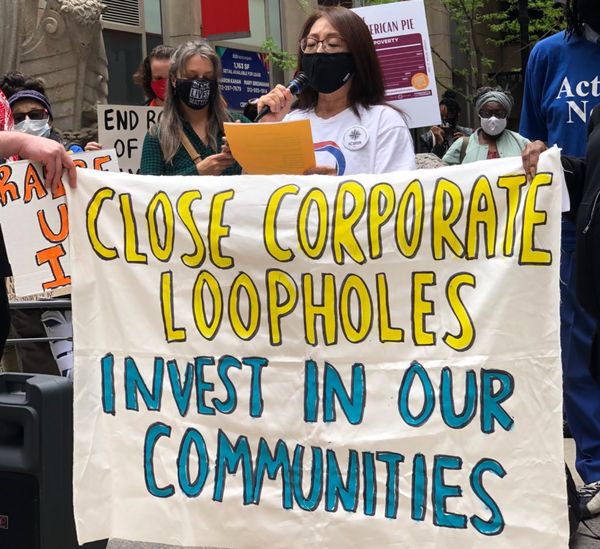 Groups Pushing for Racial Equity and Growth of Illinois Economy Laud Inclusion of Corporate Loophole Closures in State Budget
Chicago, IL – On Monday, May 31st, both chambers of the Illinois General Assembly voted to approve the 2022 state budget including closing $655 million in corporate tax loopholes used by Illinois's wealthiest corporations to avoid paying their fair share. This budget provides for significant new investments in childcare, supports for immigrant communities, creation of affordable housing and funding of the state's evidence-based school funding formula. The following is a statement by the Raise Up IL coalition.
"The closure of four corporate tax loopholes is a step towards full recovery and making Illinois a state where everyone can thrive. Billionaires and corporations saw their wealth and profits soar during the pandemic, while Illinois families struggled to pay rent and keep food on the table. Closing these loopholes will help Illinois invest in public schools, human services and other healthcare, while calling on those who profited from the pandemic to pay their fair share," said Amisha Patel, Executive Director of Grassroots Collaborative.
"For years we have been talking with our communities about the services they need and how closing tax loopholes is a way to pay for them. Over the last several months members of Raise Up IL have been focused on organizing our communities to let state elected officials know through phone calls, constituent meetings, and emails, that we needed them to stand up to corporate lobbyists and fund the services we need. When we fight, we win!" explained Adele Sims, with ONE Northside.
"We appreciate the state legislators and the governor who listened to the needs of their constituents instead of corporate lobbyists. We are especially thankful to Senator Robert Peters, Senator Ram Villivalam, Rep Delia Ramirez, and Rep Will Guzzardi for their leadership and continued commitment to working families," stated Marta Popadiak, with The People's Lobby following the budget vote. "We look forward to continuing to work with legislators and the governor to continue to close the tax loopholes used by the ultra-wealthy and large corporations, so that we can fund and expand the foundational systems communities across the state need to thrive — expanding child care and the home care program fully funding public education, supporting immigrant services, building more affordable housing, and providing tax relief for working-class and low-income families."
###.
The Raise Up Illinois Coalition includes: Brighton Park Neighborhood Council, Chicago Teachers Union, Grassroots Collaborative, Illinois Coalition for Immigrant and Refugee Rights, Jane Addams Senior Caucus, Jewish Council on Urban Affairs, ONE Northside, SEIU HealthCare Illinois Indiana,The People's Lobby, Workers Center for Racial Justice, and others.